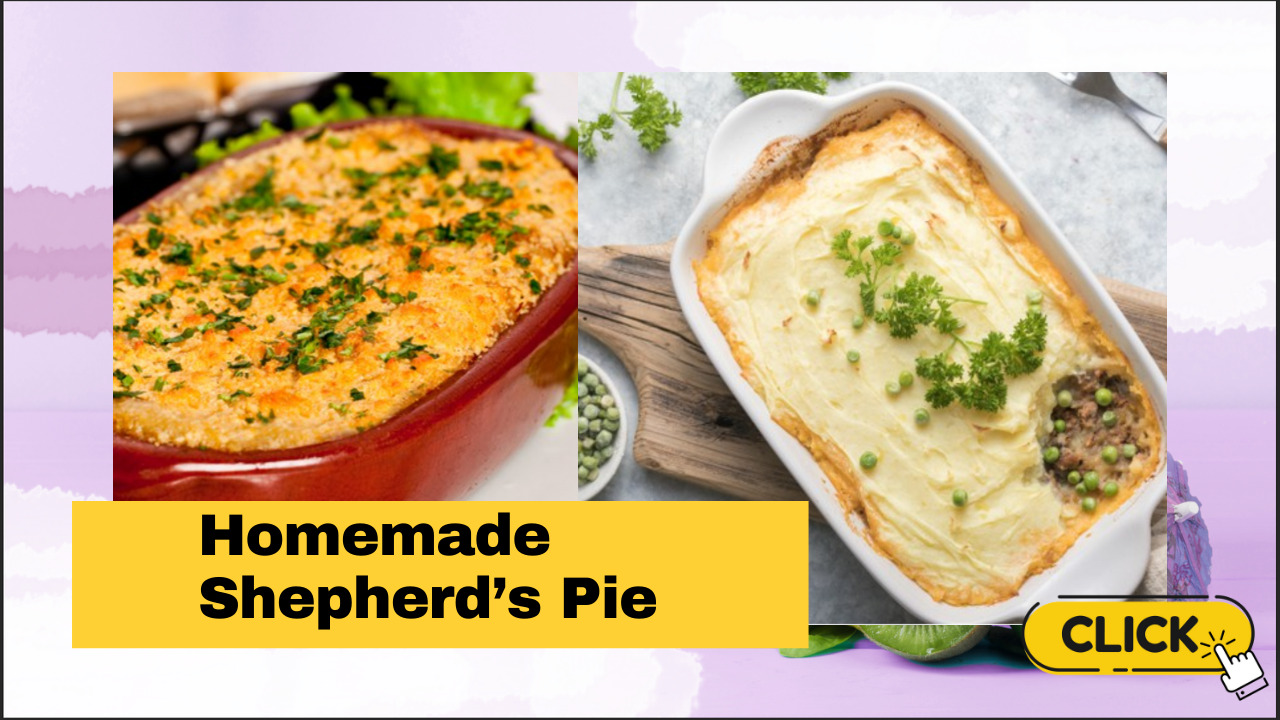 Print
Homemade Shepherd's Pie
A delicious filling with lots of gravy underneath a fluffy layer of mashed potatoes – perfect for a cold night, or as a special St. Patrick's Day treat.
Equipment
Large Skillet

Casserole Dish
Ingredients
1

tbsp

oil

1

pound

ground beef

1

clove garlic chopped

2

onions finely chopped

2

medium carrots finely diced

2

sticks celery finely diced

½

tbsp

salt

¼

tbsp

ground paprika

ground black pepper to taste

2

tbsp

white flour

2

tbsp

tomato paste

⅓

cup

red wine

1

cup

beef broth

1

cup

frozen peas

1

tbsp

finely chopped parsley

½

tbsp

finely chopped thyme

1

tbsp

finely chopped rosemary

4

cups

mashed potatoes

½ 

cup

shredded cheddar cheese
Instructions
Heat the oil over medium high heat in a big, deep frying pan. Brown the ground meat, then include the sliced veggies and sauté till softened.

Sprinkle some salt, paprika, pepper and flour over the pan. Cook for 2 minutes, stirring frequently. Stir in tomato paste and cook, stirring all the time, till it smells roasted approx.1 minute. Pour in the red wine OR beef broth if you prefer!, scratching any browned bits off the bottom.

Then stir in broth, herbs and peas, simmer 4-5 minutes and then let cool in a 7×11 inch baking dish.

In the meantime, make your favorite mashed potatoes. You need about 4 cups of mash to top off the casserole. About 1.5 pounds of peeled potatoes should yield enough.

Preheat the oven to 400°F (200°C). Spread the mashed potatoes over the cold filling. (Be careful not to mix up the two.) Criss-cross with a fork for a great look and crispy edges! Sprinkle with the cheese. Bake at 400°F for 20 minutes or until golden (You can baking on a lined baking sheet to catch any spills).
Notes
Ensure to brown the meat and veggies well for the most intense flavors.
Do not skip cooling the filling. A cool filling is a lot easier}to top with mashed potatoes without mixing the layers.
Recipes source: www.savorynothings.com