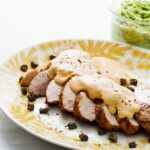 Print
Keto turkey with cream-cheese sauce
This keto meal's elegance begins with its simplicity. Briny capers combined with turkey and cheese all bring their own flavors to the party. Use this is a base to create dozens of different variations – all of them succulent and satisfying!
Ingredients
2

tbsp

butter

1½

ibs

turkey breast

2

cups

crème fraîche or heavy whipping cream

7

oz. 

cream cheese

1

tbsp 

tamari soy saucesalt and pepper

1½

oz. 

small capers
Instructions
Preheat the oven to 350°F (175°C).

Melt half of the butter over medium heat, in a large oven-proof frying pan. Season the turkey generously and fry until golden brown all around.

Finish off the turkey breasts in the oven. When turkey is cooked through and has an internal temperature of at least 165°F (74°C), place on a plate, and tent with foil.

Pour turkey drippings into a small saucepan. Add cream and cream cheese. Stir and bring to a light boil. Lower the heat and let simmer until thickened. Add soy sauce, season with salt and pepper.

Heat remaining butter in a medium frying pan over high heat. Quickly sauté the capers until crispy.

Serve turkey with sauce and fried capers.
Notes
Don't forget your side dishes! Both broccoli or cauliflower mash perfectly complement the rich flavors of this turkey. And have fun with this supremely versatile cream cheese sauce! It can be adapted to any kind of boneless or bone-in meat you like. Fillets or chops. Beef or pork. Lamb or chicken. Just remember to keep the skin or fat on when possible, as this really enhances flavor and fat content.
Recipes source: https://kalynskitchen.com/